This is an archived article and the information in the article may be outdated. Please look at the time stamp on the story to see when it was last updated.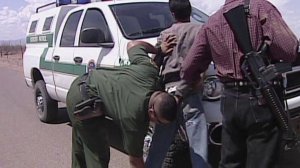 AUSTIN, TX – Is it just us, or is watching the immigration problem along the South Texas border like watching some weird version of Jerry Maguire?
President Obama wants Congress to show him the money in the form of $3.7 billion in emergency funds to beef up security along the border, to speed up the processing of the immigrants, and to improve care for the kids in federal custody.
And those are all things Gov. Perry wants to talk about with the president when he shows up in Texas this week. In fact, the governor might ask the president to show him the reimbursement money for what Texas has spent, and will spend, dealing with the immigration flood.
Gov. Perry won't be meeting the president on the tarmac like the last time the two met at Austin's airport. Perry told the White House he doesn't want a quick handshake, preferring instead to have a meaningful talk about the border crisis.
that might happen in Dallas. The White House says Perry accepted an invite to a meeting between the president and local faith and community leaders.
Also, don't expect Gov. Perry to try to talk the president out of raising money for the Democrats. People are already lined up for free tickets to hear the president speak at one of two Austin fund-raisers.
And unless things change, Austin is about as close to South Texas as President Obama wants to get this trip.