This is an archived article and the information in the article may be outdated. Please look at the time stamp on the story to see when it was last updated.
HOUSTON - The death of Sandra Bland, who died in a Waller County jail cell just days after a controversial arrest, is evoking strong emotions and calls for an investigation.
As pundits and community leaders weigh in with their take on the story, a political cartoon, first published in the Washington Post, is stirring up even more controversy. The cartoon was reprinted by the Houston Chronicle, showing a hearse from Sandra Bland's funeral, stopped on the side of the road by a policeman. The cop tells the driver that the vehicle changed lanes without signaling, the same reason Bland was pulled over in real life, and that Bland's body will have to go back to jail.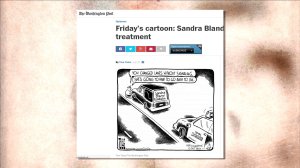 Activist Quanell X organized a meeting in front of the Chronicle's office to condemn the decision to reprint the image. "To use a cartoon with a hearse with her name on the back of the window the day after her funeral is offensive," he told attendees.
Quanell X continued, "We believe that whoever made that decision needs sensitivity training, if not, termination."
The chronicle said in a statement, "...We certainly did not intend to make light of her death. In fact, in an editorial published Thursday, we also expressed our outrage about the circumstances surrounding the traffic stop."
Sure some people will find it insensitive, but that's what cartoonists do. They exercise free speech to make us laugh, get us mad, or just have us talking.