This is an archived article and the information in the article may be outdated. Please look at the time stamp on the story to see when it was last updated.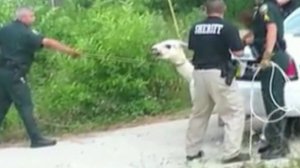 TALLAHASSEE, FL – From gators in Florida, to ostriches in China, animals on the loose is nothing new. But it still didn't prepare Florida police for a llama that was running loose.
Deputies were able to catch it, but they had a heck of a time trying to get it into a trailer. The llama even spit in the deputies' face.
The llama was re-united with its owner, who didn't face any charges for letting his pet out.