This is an archived article and the information in the article may be outdated. Please look at the time stamp on the story to see when it was last updated.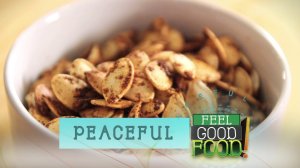 Light up your taste buds; skip the guilt. This simple recipe makes for an awesomely savory snack. Warning: prepare soon while pumpkins are still in season!
Savory Pumpkin Seeds – Feel Peaceful
Ingredients
1 tsp canola oil
2¼ tsp paprika
1½ tsp garlic powder
1 tsp salt
3/4 tsp onion powder
3/4 tsp cayenne pepper
3/4 tsp oregano
3/4 tsp ground thyme
½ tsp black pepper
Seeds from 1-2 pumpkins
Instructions
*For instructions on gutting a pumpkin, click here. You can use the pumpkin flesh as well (to make recipes like homemade pie), or just work with the seeds.
Preheat oven to 350F.
In a large bowl, combine all the ingredients, and toss well to coat.  Bake for 10-20 minutes, until golden brown and crispy.