This is an archived article and the information in the article may be outdated. Please look at the time stamp on the story to see when it was last updated.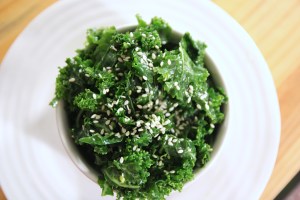 This vibrant salad will light you up from the inside-out! The slightly salty dressing has a hint of sweetness and Asian-style flair. It will delight your senses and keep you coming back for more.
Sesame Kale Salad – Feel Refreshed

Ingredients:
 1 tbsp toasted sesame oil
1 tbsp extra virgin olive oil
1½ tsp rice vinegar
1½ tsp soy sauce
1½ tsp honey
1 tsp minced fresh garlic
¾ tsp minced fresh ginger
¾ tsp white sesame seeds, plus extra for serving
1 medium bunch of kale, torn into pieces
Instructions:
In a small bowl, combine the dressing ingredients and stir well. Pour over the kale, and use your hands to massage the leaves for about three minutes, until the kale turns bright green and significantly reduces. Garnish with extra sesame seeds.
Serves 2-4.