This is an archived article and the information in the article may be outdated. Please look at the time stamp on the story to see when it was last updated.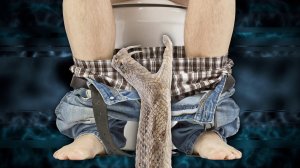 NOFIT, ISRAEL – One minute a 35-year-old Israeli man was relieving himself on a toilet. The next he is being rushed to the hospital, after the snake hiding inside the bowl bit his penis!
The incident happened in the town of Nofit in northern Israel. The man told emergency staff he noticed a strong burning sensation while sitting on the toilet. When he noticed the serpent inside the commode he "ran from the room in horror" and called paramedics.
Medics were relieved to know they didn't have to suck the poison out, since the small snake wasn't venomous, but the man was hospitalized for further tests and observation.
Nature called and bit back! But medical staff was quick to aid the man with snake bitten penis.
Coincidence or not, the international symbol for health care is a snake, wrapped around a long staff. Now that's something to chew on!