This is an archived article and the information in the article may be outdated. Please look at the time stamp on the story to see when it was last updated.
HOUSTON - Today's Pothole of the Day is located on W. Bellfort at Keegans Ridge, in southwest Houston. Sheimeshia, pulled over to speak with us, "I see my tire is messed up because of that pothole, I said, where is NewsFix?"
"I actually lost a front tire to this pothole no more than a week ago," added Joe Wallace.
Even city busses try to avoid this ditch, but driver after driver, cringe as they bash through it.
Emmanuel Ekeke described his experience, "Driving through this pothole was excruciating, I felt like my car was about to fall apart."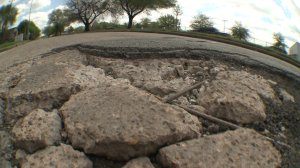 Zina Anyanw said, "Cars come through here, they hit that pothole and they just go boom."
This is yet another one of those potholes that has already been patched, but the patch just crumbled apart.
"Boom, really hard. My whole front end hit, I thought I lost my front end," said Wallace.
The message to city hall is pretty clear.
"I think you guys should respect the city a little more and repair it,"  Wallace exclaimed.
Sheimeshia implored, "I said Jesus, and then I seen you, I said Hallelujah, so I turned back around and seen that y'all was out here doing something. Fix em' all!"