This is an archived article and the information in the article may be outdated. Please look at the time stamp on the story to see when it was last updated.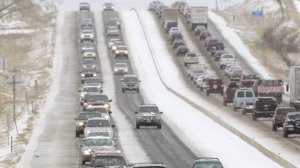 DENVER, CO – Punxsutawney Phil didn't see this one coming. Denver, Colorado hit with a winter storm warning three weeks into spring.
It's part of a weather system stretching from Utah to Minnesota. Denver is expected to get over a foot of snow. Schools closed, flights cancelled; what is this, winter? The storm knocked a 40-50 foot tree into this house. Luckily no one was hurt. Twisters were also reported in northern Colorado.
Over in Kansas, Dorothy doesn't have to worry about tornadoes like her neighbors to the west. Instead, she's dodging a hail storm.
Quite the opposite in California, just about an hour northwest of Los Angeles. A mobile home fire got out of hand quickly thanks to high winds, sparking a wildfire. It took around 400 firefighters to put out the blaze, which ended up destroying 170 acres. Several structures and at least one car went up in flames.
Spring has sprung alright. Right into a bucket of crazy.