This is an archived article and the information in the article may be outdated. Please look at the time stamp on the story to see when it was last updated.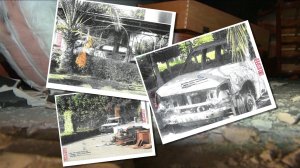 BENGHAZI, LIBYA – September 11th, 2012: a day filled with terror and controversy.
Who can forget when four people were killed, including U.S. Ambassador J. Christopher Stevens, after extremists stormed the US embassy in Benghazi, Libya?
Now, the State Department has released photos from that day, thanks to a Freedom of Information Act lawsuit filed by the conservative watchdog group Judicial Watch.
In the photos, burned cars and graffiti, including one that the Daily Mail says, among other things, "Allah-u-akbar," meaning "God is great," which is an extremist's rallying cry.
It's an eerie sight of the deadly aftermath.
While these photos don't give us any answers, they do give us a better picture of what happened.