This is an archived article and the information in the article may be outdated. Please look at the time stamp on the story to see when it was last updated.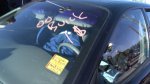 You want to hear about the best Black Friday deal in town? How about driving away in a one dollar car! Yeah, about 100 people camped-out at Sterling McCall Toyota in southwest Houston, hoping to score some major deals at the dealership's sixth annual "Slicer Sale".
Five cars were going to get the dollar price tag but nobody knew which ones. Folks needed a little luck to drive away in a car for only a buck! The trick was to sit inside the vehicle you wished to purchase and wait for a sales person to mark the "adjusted" price on the windshield. The auto dealer advertised prices slashed for thousands of dollars below retail value, making many people very happy even if they didn't get that dollar dream car.
The temps where low, but some emotions ran high when one man claimed he briefly stepped away from his vehicle and someone else got in. That car ended up going for a dollar! There was some yelling going on, but after sometime cooler heads prevailed.A few minutes later, the guys luck seemed to turn when he was taken inside the dealership by the General Manager of Sterling McCall Toyota, hopefully for his own dollar deal he can drive away in.