This is an archived article and the information in the article may be outdated. Please look at the time stamp on the story to see when it was last updated.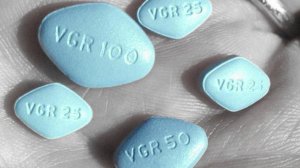 HOUSTON, TX – As if life wasn't hard enough for guys with erectile dysfunction, research results just published in the journal JAMA Internal Medicine suggest Viagra may be linked to skin cancer.
Researchers compared cancer rates among those who took the blue pill and those who didn't.
They found Viagra users had twice the incidents of skin cancer.
But don't go off half-cocked. Researchers say they need more hard data to come to a conclusion.
And now from the distaff side comes good news for women requiring vaginal reconstruction.
The Lancet reports that researchers in the U.S. and Mexico successfully grew and transplanted vaginal organs in four teen-agers with a condition that's really hard to pronounce.
The researchers used the girls' own vaginal tissue. They grew the new organs in an incubator and then surgically implanted them in the donor patients.
Eight years later, everything seems to be working good as new.
No word if the new parts come with a life-time warranty.