This is an archived article and the information in the article may be outdated. Please look at the time stamp on the story to see when it was last updated.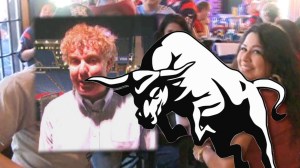 HOUSTON, TX – Remember what mom used to say? If you can't say anything nice, don't say anything at all. That being said, we'd like to let you know what Dan Shaughnessy, a sports writer for the Boston Globe, has been up to recently.
He had some choice words to say about our Houston Texans in his Sunday column. Here's a few highlights: "The New England Patriots are the first team in NFL history to get back-to-back byes before… the championship game," referring to their upcoming match against Houston.
He also called Houston's team "frauds," "tomato cans," and referred to them as the "Terrible Texans!"
Hey Dan, alliteration is our thing!
Trash talk usually comes from players, but writers? We hope Dan's "fighting words" have a nice spot on the Texans bulletin board this week. We're sure its fired-up those Bulls on Parade, while fans are saying Dan's work is nothing but a bunch of bull.