This is an archived article and the information in the article may be outdated. Please look at the time stamp on the story to see when it was last updated.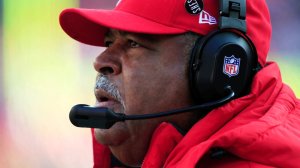 HOUSTON, TX – The Texans have a new defensive coordinator and he's considered one of the best to ever do it.
Romeo Crennel is head coach Bill O'Brien's newest hire and he too was once a part of the New England Patriots success. He's the third former Patriot to sign onto the Houston Texans coaching staff. There's O'Brien, now Crennel and linebacker coach Mike Vrabel was also a Patriot and was even coached by Crennel for four years.
Crennel signed a three year deal and will make just under $2 million a season. After the worst season in franchise history, the Texans needed a revamp. So far so good!