This is an archived article and the information in the article may be outdated. Please look at the time stamp on the story to see when it was last updated.
This crispy, cheese app is great for holiday entertaining or anytime-snacking.  It's easy and addictive--totally a treat!
3 Cheese Crispy Wontons
3 tbsp. goat cheese
3 tbsp. Parmesan
3 tbsp. shredded mozzarella
12 wantan sheets
3 kalamata olives, chopped, optional
2-3 tbsp Extra virgin olive oil
Water
Combine the three cheeses in a small bowl.  Stir well.
Spoon a d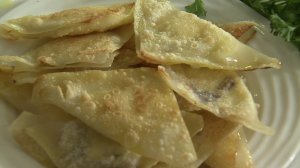 ollop of the cheese mixture into the center of a wonton.  Sprinkle chopped olives over the cheese as desired.
Dip your finger into some water and then run it along two edges of the wonton, to moisten.  Fold the sheet into a triangle so that the wet edges attach to the dry edges.  Continue with remaining ingredients.
In a medium skillet, warm the oil over medium heat.  Once hot, add the wontons to the pan.  Cook for about 30 seconds on each side, until very lightly browned—even less time will be required as the pan heats up more.   Transfer the cooked wontons to a dish covered with a paper towel (to absorb oil).  Continue with remaining ingredients.
Makes 12 pieces.