This is an archived article and the information in the article may be outdated. Please look at the time stamp on the story to see when it was last updated.
HOUSTON — Three men are in custody after they were caught burglarizing vehicles Monday in near the Humble area, the Harris County Pct. 4 Constable's Office confirmed.
Officers responded to the 9000 block of Farm Ridge Lane after reports of a possible break in. When constable deputies arrived, they found at least three vehicles had been broken into.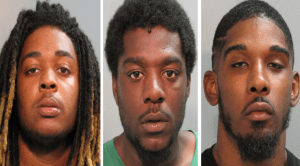 Deputies searched the area and found the three suspects allegedly still in possession of the stolen property.
The suspects have been identified as Steven Batiste, 23, Dundre Amos, 19, and Javiance Stewart, 19.
All three were charged with burglary of a motor vehicle and booked into the Harris County jail.