This is an archived article and the information in the article may be outdated. Please look at the time stamp on the story to see when it was last updated.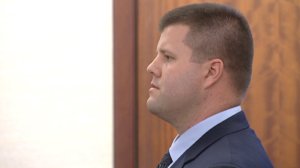 HOUSTON, TX – Testimony starts for the trial of the last Houston police officer, charged in connection with the beating of burglary suspect Chad Holley in 2010. Drew Ryser, who was fired from the force after the incident with Holley was caught on camera, appeared in court and showed no emotion during opening statements.
Prosecutors telling the jury of six, the HPD officers mishandled the situation by beating the then 15-year-old Holley when he was already on the ground. Ryser is charged with official oppression. The defense is asking for a not guilty verdict.
In March, Raad Hassan and Phil Bryan pleaded no contest to official oppression, a class "A" misdemeanor. That means they neither admit nor deny the charge. In return, both men will be on 2-years' probation and will never wear a badge again. Last year, a jury found Andrew Blomberg not guilty of the charges against him stemming from the Holley case.
Drew Ryser could face some jail time if found guilty. That's something that Chad Holley knows all too well; he was convicted and jailed on a separate burglary charge last year.