This is an archived article and the information in the article may be outdated. Please look at the time stamp on the story to see when it was last updated.
HOUSTON - Can you take the heat? How about the smoke? The guys at Triple J's Smokehouse definitely can and they do every day to craft some of the best barbeque in the Bayou City.
Owner Jarrett Scales says, "We stand out because we pretty much cook fresh daily. We smoke the briskets overnight, so it's a slow smoking process with us, so we do things a little different than others, but that's what makes barbeque, everybody's different."
Scales and his team know how to smoke some meats  which is why they've  had long  lines for two decades, but they have no problem feeding the hundreds of hungry folks who line-up for lunch and dinner every day.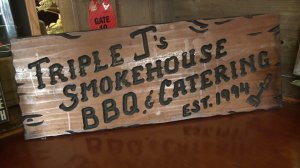 Jeff Scales says, "We use four barbeque pits every day, due to the volume of meat that we sell... 150 slabs of ribs a day, we make smoke 70, 80 briskets overnight, daily, and on the weekend maybe more."
But even with all those pits and all that meat to keep track of,  the Triple J's team says consistency is key in their kitchen.
Jarrett says. "We try to stay consistent with everything we do, from the beans, to the green beans, to the brisket, to the ribs, everything has to be and we try to be consistent."
One customer said, "It's one of our favorite places to come, great food, great service, great atmosphere."
However, valuing consistency doesn't mean the guys at Triple J's aren't willing to get creative.
Jarrett says, "Our number-one seller is probably the 'Big J Potato' that's what we're known for. It's a chopped beef potato, with the butter, the cheese, the chopped beef, the sausage, and a rib all on the potato."
Maybe they should just change their name from Triple J's to Triple M's -- because that's mmm, mmm, mmm.
Which is the case with just about everything at Triple J's because as Jarrett's brother Jeff puts it,  what they do here is best described as a labor of love.
"You know we all work 14-15 hours a day but it's worth it at the end of the day. Seeing the customer satisfaction, and the people coming out and supporting us, and patronizing our business, that's what keeps the doors open, and we take pride in what we do."
And that, my friends, is what makes good food.