This is an archived article and the information in the article may be outdated. Please look at the time stamp on the story to see when it was last updated.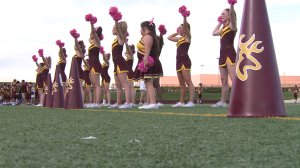 DEER PARK, TX – A big victory for a Deer Park freshman cheerleader.
16-year-old Brittany Davila's dream was to make the high school cheerleading squad.
"She loves to cheer. She loves to be down there with the girls," says Brittany's mother, Buffy Davila.
Brittany has Down syndrome, but that never stopped her from learning her routines. Last week school officials sidelined the honorary cheerleader, because she was "a liability." They were afraid she might get hurt.
"There's going to be safety concerns with all the girls. I don't want anybody to get hurt, especially my kid, but I think they were a little bit overly-protective of her because her reaction isn't necessarily as fast as the other girls," says Davila.
Cheerleaders have been known to take a tackle or two on the sidelines, but hey, it comes with the territory.
After meeting with Brittany's family, Deer Park ISD was able to resolve the issue and Brittany is back!
While she's cheering on her team, Mom and Grandma are cheering Brittany on from the stands.
"I think it's just beyond belief. It's just amazing that they let her do this," says Jyeneece Robbins, Brittany's Grandmother.
"She's happy because she's doing what she loves to do."
You go, girl!