This is an archived article and the information in the article may be outdated. Please look at the time stamp on the story to see when it was last updated.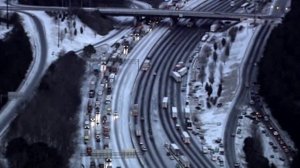 ATLANTA, GA – Atlanta was downright paralyzed by snow and ice on Tuesday.
Some students had to stay the night at school, and others spent hours on their bus routes home. The city had over 900 accidents reported, and more than 100 people got hurt. Desperate commuters spent 8, 10 even 12 hours in the car.
Aside from a few scenic shots, it wasn't pretty in other states either.
Messy roads also forced buses to stop in parts of Alabama. In one district, 4500 students stayed overnight at school.