This is an archived article and the information in the article may be outdated. Please look at the time stamp on the story to see when it was last updated.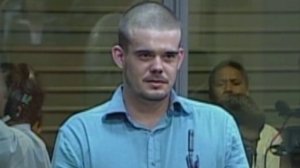 LIMA, PERU – Jeffrey Dahmer, Charles Manson, Joran van der Sloot. They're all killers who have groupies: women who are obsessed and in love with them!
It's called Hybristophilia, or the 'Bonnie and Clyde Syndrome'. And it seems Joran van der Sloot has found the 'Bonnie' to his 'Clyde'.
The lawyer for the 26-year-old Dutchman says van der Sloot is gettin' hitched–from behind bars.
Van der Sloot is currently serving 28 years in a Peruvian prison for the murder of Stephany Flores. He's also the main suspect in the disappearance of Natalee Holloway. But Leydi Figueroa Uced, 22, isn't gonna let a criminal record and steel bars get in the way of true love!
The woman often visits her jailbird at the Piedras Gordas Prison, and it was even rumored last year that she was knocked up!
Can you believe they allow conjugal visits?
Van der Sloot is known to be a master manipulator, so it comes as no surprise that the jailhouse nuptials have deeper meaning. Marrying a Peruvian and fathering her child may save van der Sloot from further punishment.
Back in 2010, he was charged with attempting to extort $250,000 from Beth Holloway, in exchange for details about Natalee's death.
He faces 25 years in that case, but becoming a Peruvian citizen would hinder his chances of being extradited to the U.S.
So, uh, cheers to the happy couple.
Hope your wedding is killer.