This is an archived article and the information in the article may be outdated. Please look at the time stamp on the story to see when it was last updated.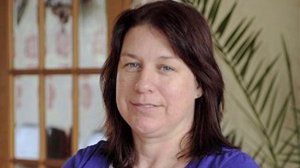 DEVON, ENGLAND – It's the classic fairytale. Boy meets girl. Boy marries girl. Girl gives boy a kidney. Boy leaves girl and surprise, girl wants kidney back.
Really, we can't make this stuff up.
In 2009, Samantha Lamb's husband Andy suffered renal failure. So being such a loving wife, the 41-year-old mother of one from Devon, England, had an operation to transplant her kidney to save her husband. A few short years later, while under suspicion of cheating, Andy suspiciously moved out of the couple's home while his wife was busy at work. Scandalous!
Naturally now, Mrs. Lamb is yelling.
Samantha says, "I would definitely go through the operation again; but I wouldn't give the kidney to him. I hate him. If I could I'd take it back and give it someone else."
Sounds like Mrs. Lamb needs the repo man.