This is an archived article and the information in the article may be outdated. Please look at the time stamp on the story to see when it was last updated.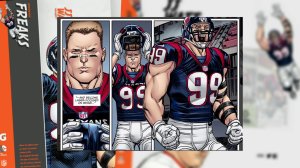 HOUSTON, TX – You've heard of Superman and Batman, but have you ever heard of MegaWatt?! Likely not, but it's  a new comic character from DC Comics. They teamed up Gatorade to unveil the new character.
The digital comic tells the story of how a high school kid from a small Wisconsin town became one of the NFL's best defensive players. You can check out the comic on Gatorade's Web site.
Man, if only the Swatt-Man had some real super powers because we all know the Texans could definitely use a super hero right now.