This is an archived article and the information in the article may be outdated. Please look at the time stamp on the story to see when it was last updated.
How do you use a table saw?
Most people who take on small woodworking projects know how to use hand saws and portable electric power saws, both corded and cordless. Portable hand saws are good for making quick cuts of lumber and plywood for smaller projects that do not require the greater precision called for when making things such as furniture and cabinets. But when you need to get serious about a project, a table saw is a great choice.
What is a table saw?
A table saw is a woodworking tool that uses an electric motor to drive a circular saw blade. The blade protrudes through the top of a table that supports the wood being cut as you push it forward.
Types of table saws
There are three main kinds.
Portable table saws: These are the smallest of the three main types. They weigh less so they're easy to move about. Because they're smaller and lighter, they're the least stable, the most prone to vibration and have the least power. They may be mounted on frames with or without wheels.
Bench table saws: These are bigger saws that have no wheels but can still be moved around. They cost more than portable table saws because they're bigger and more powerful. They are more stable and have less unwanted vibration than portable saws because they weigh more.
Cabinet table saws: These are the choice of home woodworkers who want to make professional-grade furniture and cabinets. They are extremely sturdy, are driven by powerful motors and make light work of even the strongest, thickest hardwoods.
Types of cuts you can make with a table saw
There are four kinds.
Crosscuts: This is the most common type of cut. The blade cuts across the grain, the shortest distance, just as you would when cutting logs for a fire.
Rip cuts: These go along the entire length of a piece of wood. They're less common than crosscuts because they're only used to make long boards thinner, not shorter.
Angled cuts: Most good table saws let you adjust the blade's angle so you can cut on a slant as well as making vertical cuts.
Dado cuts: These are specialty cuts used in making higher-quality furniture and cabinets because the joints fit more precisely and securely.
How to cut like a pro
Follow these tips.
Tighten every nut and bolt before turning on your machine.
Unplug your saw when working on your blade.
Set your measurements and check them twice.
Guide your lumber, never force it.
Safety first
Whirling metal blades cut anything that gets in their way and are a source of accidents when people use saws carelessly, so use care. And don't forget that saws turn wood into sawdust you need to keep out of your eyes, nose and mouth.
Built-in safety features: Choose only saws with safety stop features and gate guards that come between your hand and the blade.
Pusher tools: These are the safest way to guide your wood carefully when you need to make a complete cut.
Eye protection: Always wear safety goggles that wrap around above, below and on both sides of the lens. Safety glasses do not provide enough protection.
Nose and mouth protection: Wear a mask or a breather that filters out fine particles so you don't swallow any or breathe them into your lungs.
Ear protection: Table saws make loud, high-pitched piercing sounds, so use a pair of ear defenders when you're cutting.
How to extend your table saw's life
Check the blades every time before you begin: Chipped or loose teeth will dangerously unbalance your blade and your entire saw.
Replace blades frequently: Just like anything with a sharp edge, your saw's blades will dull with use. Dull blades can bind, kick your wood back at you and cause injuries.
Check your drive belt: Replace it when you see evidence of wear or fraying.
Lubricate on schedule or as needed: Moving parts need lubrication to reduce friction and wear. Use oils recommended by the manufacturer.
Clean up after every use: Keeping your table and blade clean and free of sawdust, scraps and debris makes your next job easier, keeps your air cleaner and makes your shop look better, too.
Best table saws
Table saws under $500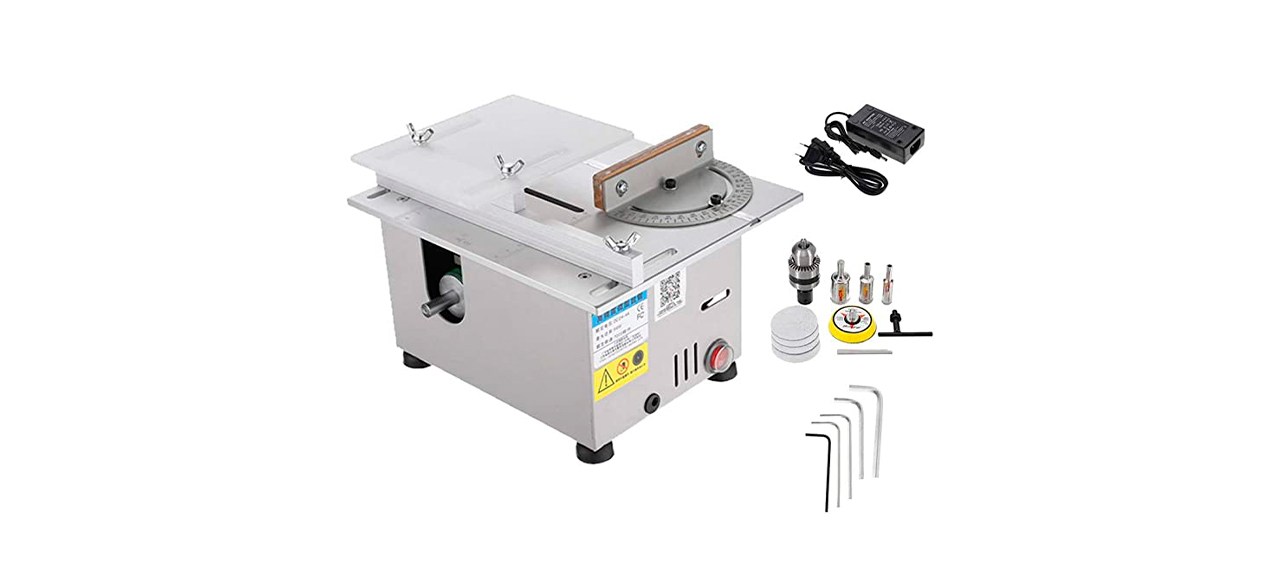 Bachin Mini Precision Table Saw
The high-torque motor delivers strong cutting power with low noise. The ruler, compass, baffle and brake make sure your cuts are accurate and safe. The thick steel frame and aluminum alloy panels sit atop non-skid feet.
Where to buy: Sold by Amazon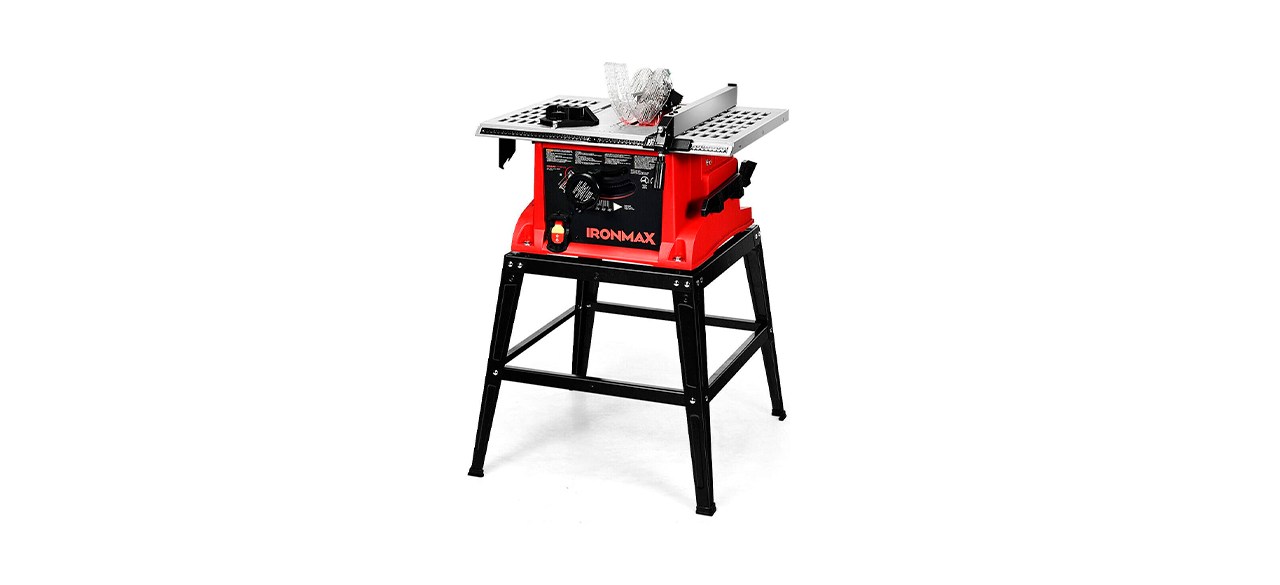 Goplus Benchtop Table Saw with Metal Stand
You can use this lightweight aluminum saw on your workbench or mounted on the included frame for precise bevel cuts. The blade guard is transparent and the safety switch kicks the power off when it senses an overload.
Where to buy: Sold by Amazon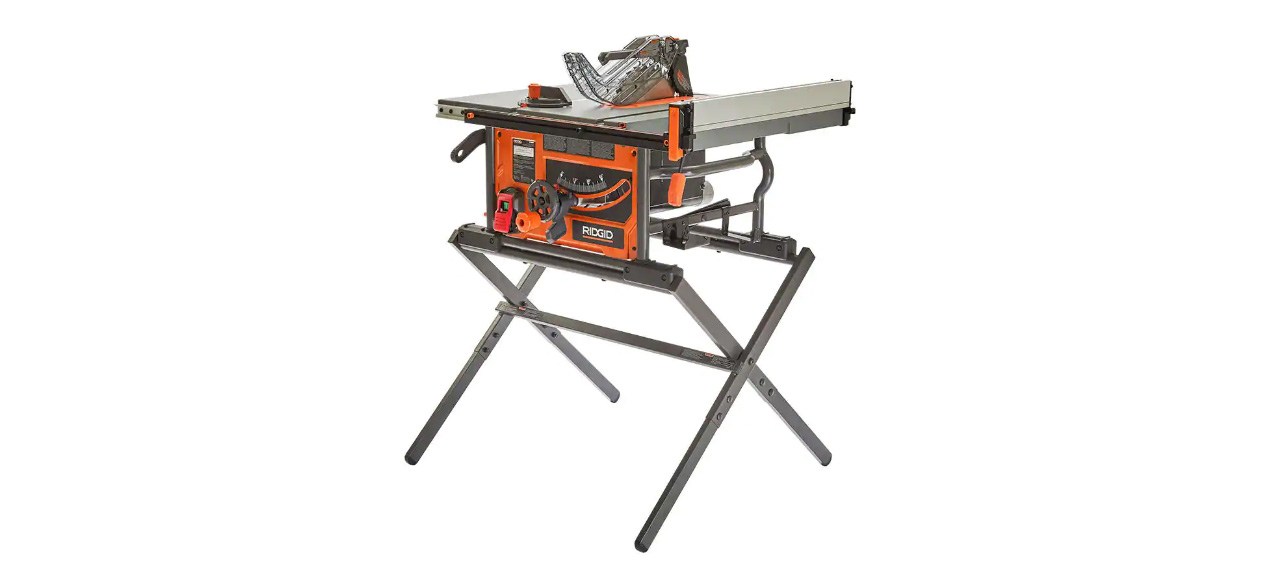 Ridgid Table Saw with Scissor Stand
Ideal for professional contractors or individual homeowners in need of a powerful table saw with stand that's compact. Comes with table saw, stand, blade guard system, blade wrench and more.
Where to buy: Sold by Home Depot
Table saws over $500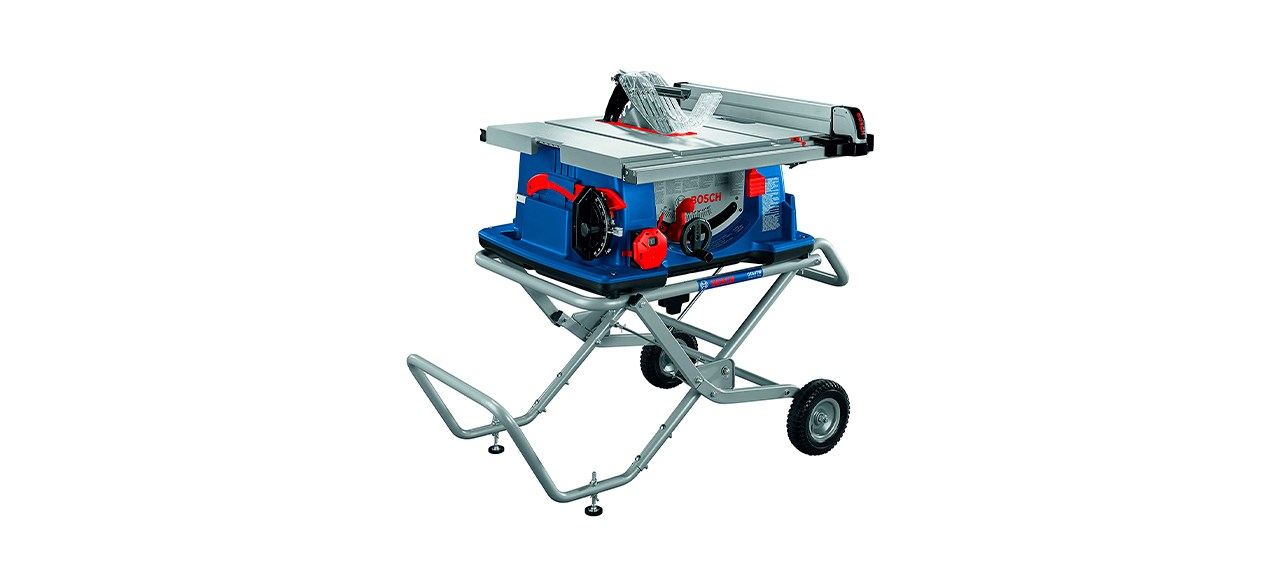 Bosch 10-Inch Table Saw with Gravity-Ride Wheeled Stand
You can set up this folding, wheeled stand or take it down with a single action. This 94-pound saw with pull or push handle maintains cutting speed under load and has an anti-kickback mechanism and a clear-view barrier guard.
Where to buy: Sold by Amazon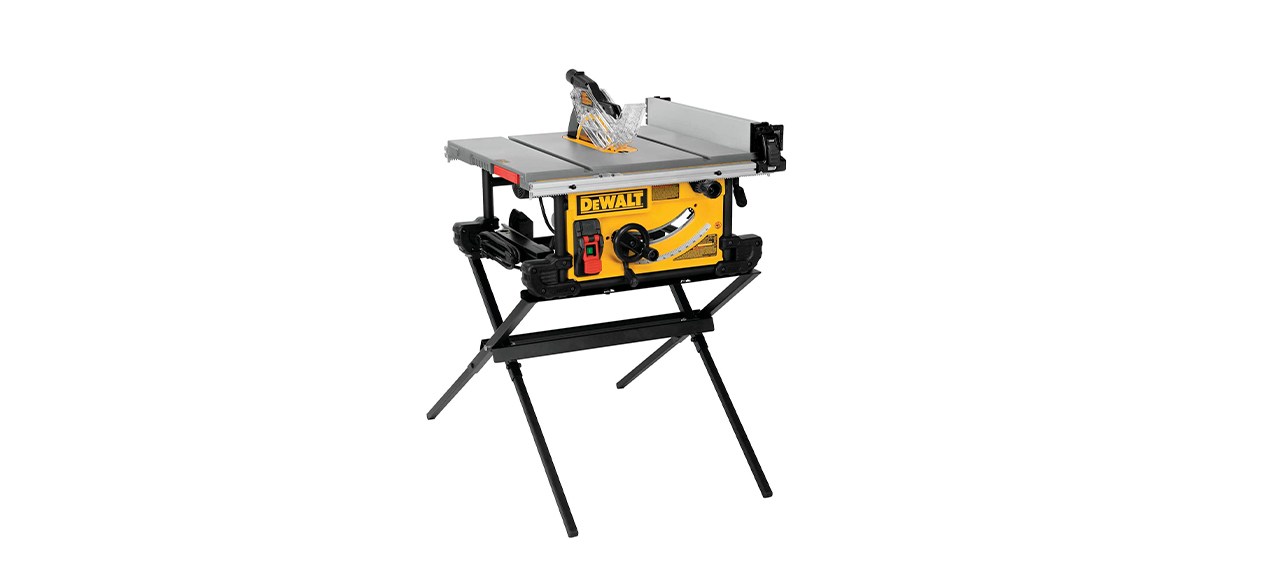 DeWalt DWE7491X Portable Table Saw with Stand
You get a 10-inch carbide blade, miter gauge and rack and pinion system that makes adjustments fast, smooth and accurate. For safety, this saw has a rip fence, blade guard assembly and push stick.
Where to buy: Sold by Amazon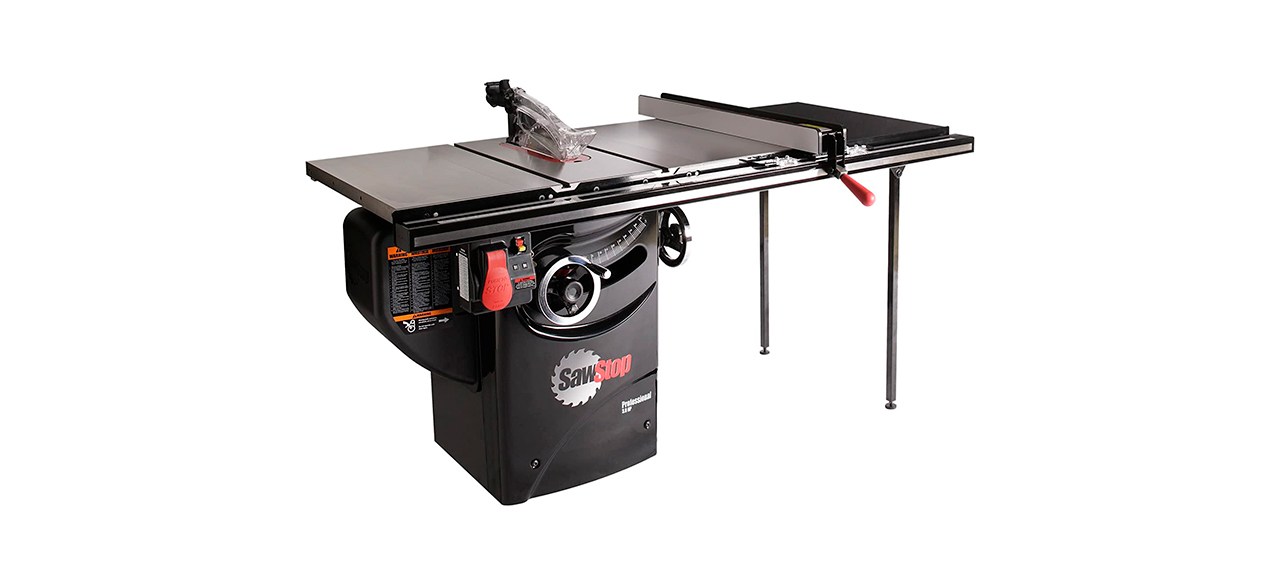 Sawstop Professional 3-Horsepower Cabinet Saw
Less than 5 milliseconds after contact with skin, this saw's blade stops and drops below the table, reducing the risk of severe injury. The blade guard above and the shroud below work together to collect 99% of airborne dust.
Where to buy: Sold by Amazon
Want to shop the best products at the best prices? Check out Daily Deals from BestReviews.
Sign up here to receive the BestReviews weekly newsletter for useful advice on new products and noteworthy deals.
David Allan Van writes for BestReviews. BestReviews has helped millions of consumers simplify their purchasing decisions, saving them time and money.
Copyright 2023 BestReviews, a Nexstar company. All rights reserved.