This is an archived article and the information in the article may be outdated. Please look at the time stamp on the story to see when it was last updated.
IN THIS ARTICLE:
For the unfamiliar, disc golf is a competitive sport that, like any other, requires tons of practice to master. Having a disc golf basket at home is crucial if you want to hone your disc golf skills and polish your putting technique.
Choosing the right basket for home play and training might seem like a no-brainer since most have a similar design. However, there are a few things to consider and features to look for in a high-quality disc golf basket.
What should I know about disc golf?
Golf vs. disc golf
Disc golf is much more affordable than traditional golf since it doesn't require expensive clubs and other gear such as balls, tees and gloves. Instead, disc golf uses a frisbee-like disc, and the game's objective is to get it into a basket. Like traditional golf, disc golf is played on an 18-hole course, and throws are recorded the same way as strokes.
Disc golf basket construction
A disc golf basket comprises a basket tray and a system of chains, usually 24, and three to five legs. The chains hang from the disc support to the basket and contain a disc once it's thrown in, letting it gently fall into the tray.
Price
A disc golf basket is cheaper than most traditional golf clubs, which can cost well over $300 each if it's high-quality. You can find a lightweight, portable disc golf basket for $50-$100, but if you want something more durable or a set that includes several discs, you can expect to spend $100 to $250.
Top features to look for in a disc golf basket
Durability
The most durable disc golf baskets are all-metal and have welded joints, legs or a circular base for stability. However, you also want to ensure that it's sturdy enough to withstand strong winds, so it's best to look for one with anchors that can dig into soft surfaces such as grass.
Strong chains
The chains must be durable and sturdy enough to cradle a tossed disc into the tray below. For those looking to work on their putting, a basket with an interior ring of 12 rings and an external system of 12 chains is ideal, as it emphasizes precision and is considered a regulation-sized basket.
Easy assembly
Most disc golf baskets are easy to assemble, requiring no additional tools and taking less than one minute. The most portable models have screws and parts that can be tightened or loosened by hand, and although they're not as sturdy as models that require tools for assembly, they're much more convenient and suitable for traveling.
Discs
If you already have a putting disc at home, you can save money on a basket that doesn't come with any discs. However, if you're brand new to the game, many baskets come with at least one driver, one mid-range disc and one putter disc.
Best disc golf baskets
Affordable practice disc golf baskets $50 to $120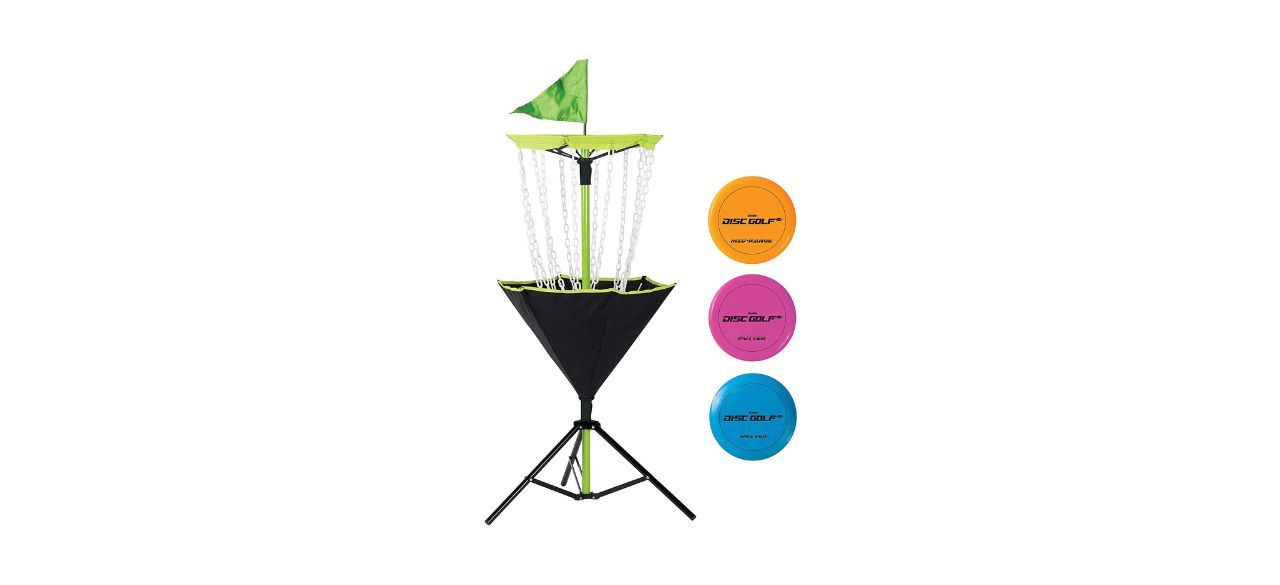 Franklin Sports Disc Golf Basket Bundle
This disc golf basket set comes with a driver, mid-range and putter disc with an easy assembly and disassembly mechanism. It has an umbrella shape, making it portable and easy to fold down. It also includes a carrying case.
Sold by Amazon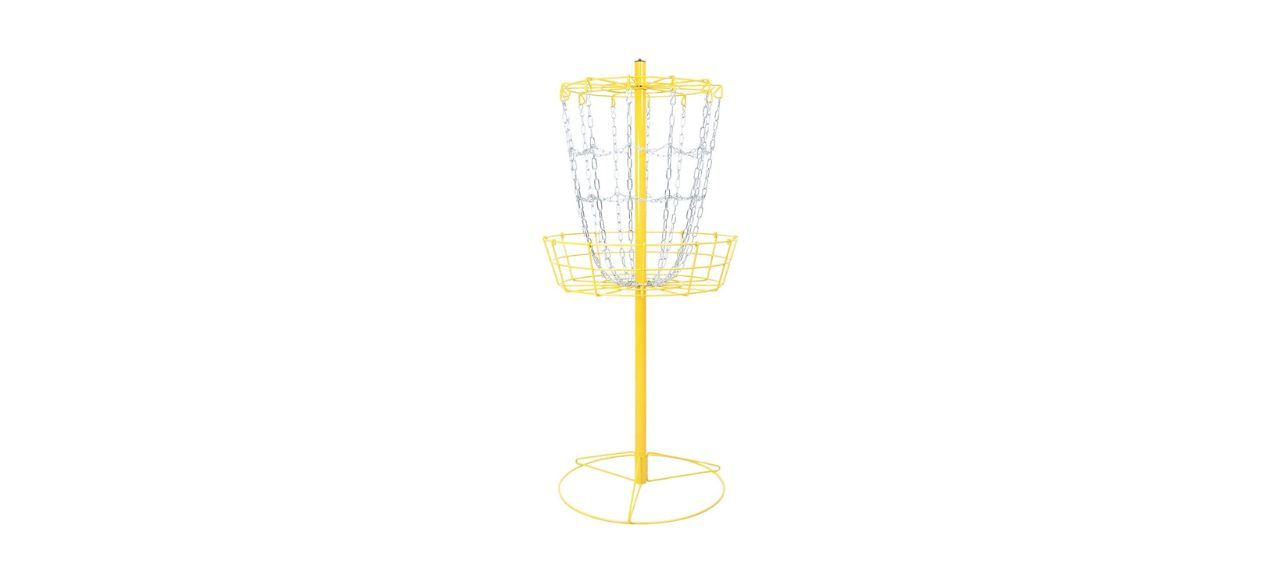 Hive Disc Golf Practice Basket Cross Chains
It ditches the traditional chain setup in favor of a cross-chain design, but this disc golf basket offers excellent durability and performance. All joints are welded, and the threaded tension system makes it easy to set up and reduces vibrations.
Sold by Amazon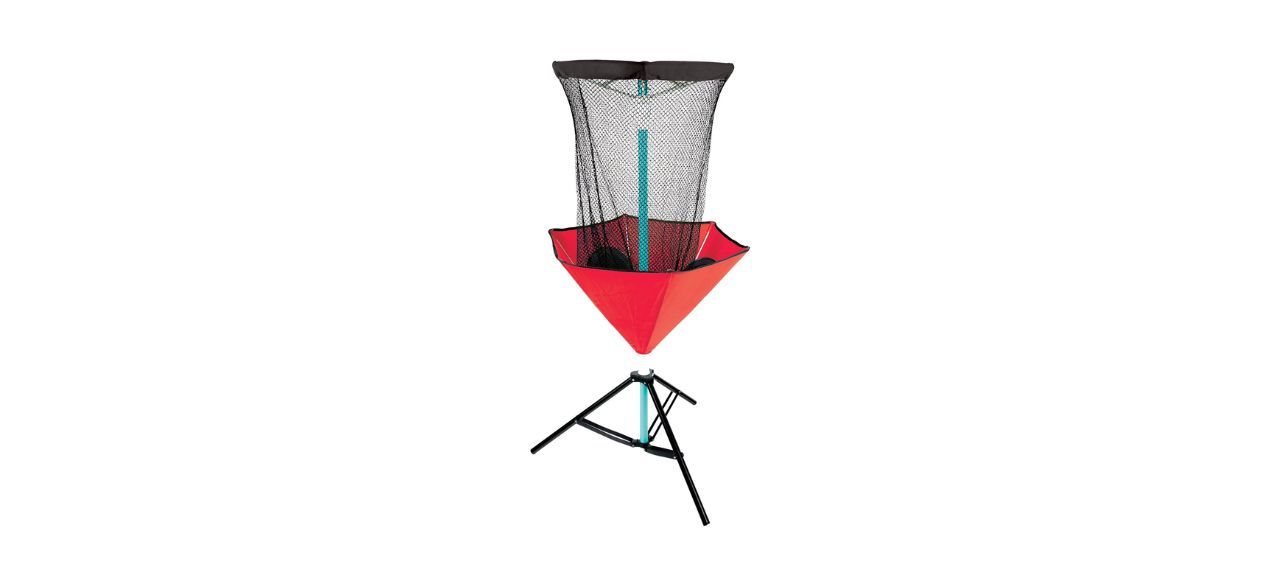 This disc golf target is excellent if you want something lightweight and portable to take to the beach or family picnics. It has three legs for a sturdy setup and an umbrella shape ideal for playing on grass or concrete.
Sold by Dick's Sporting Goods
Disc golf baskets $120 to $250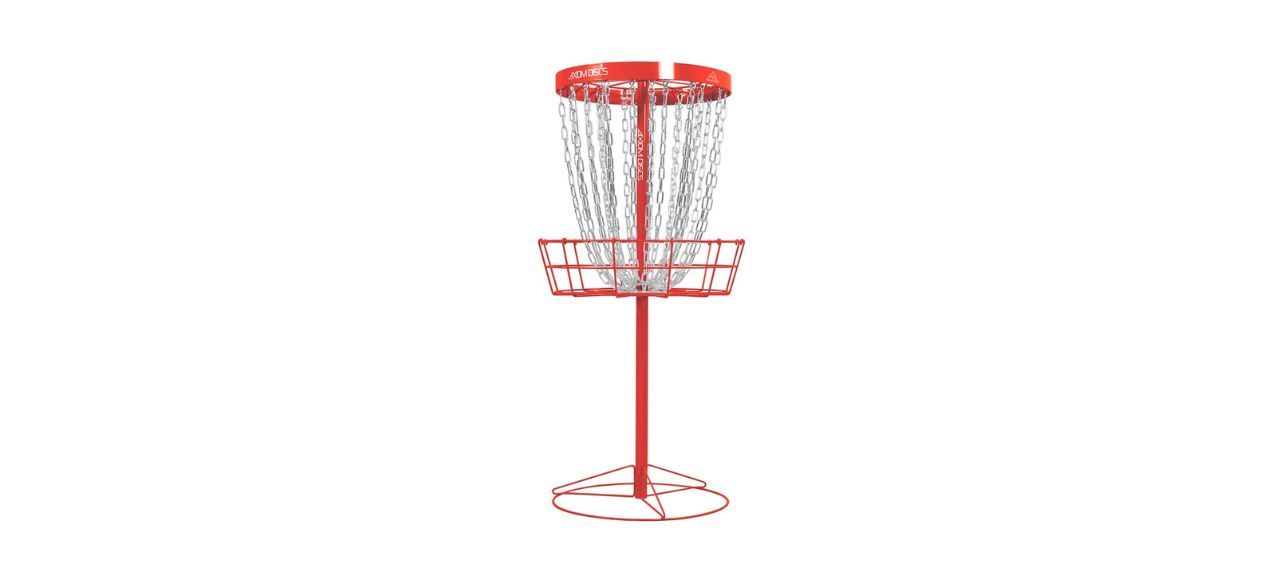 Axiom Discs Pro 24-Chain Disc Golf Basket
Look no further if you want a disc golf basket with a premium design and zero weak pockets. The 24 chains are each separated by an equal distance, and the tension threaded connection reduces cut-throughs and bounces.
Sold by Amazon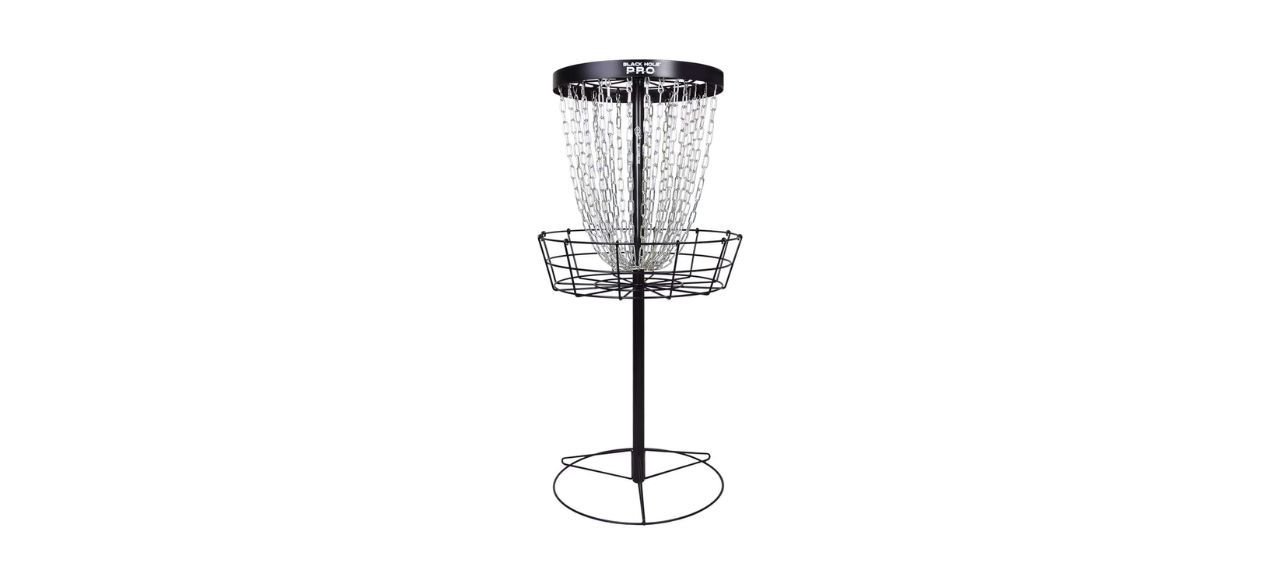 MVP Black Hole Pro 24-Chain Portable Disc Golf Basket
This disc golf basket has a durable metal construction and heavy-duty, zinc-coated chains for maximum visibility. It has 12 outer chains, 12 inner chains, zero weak spots and it's easy to assemble, taking less than one minute.
Sold by Amazon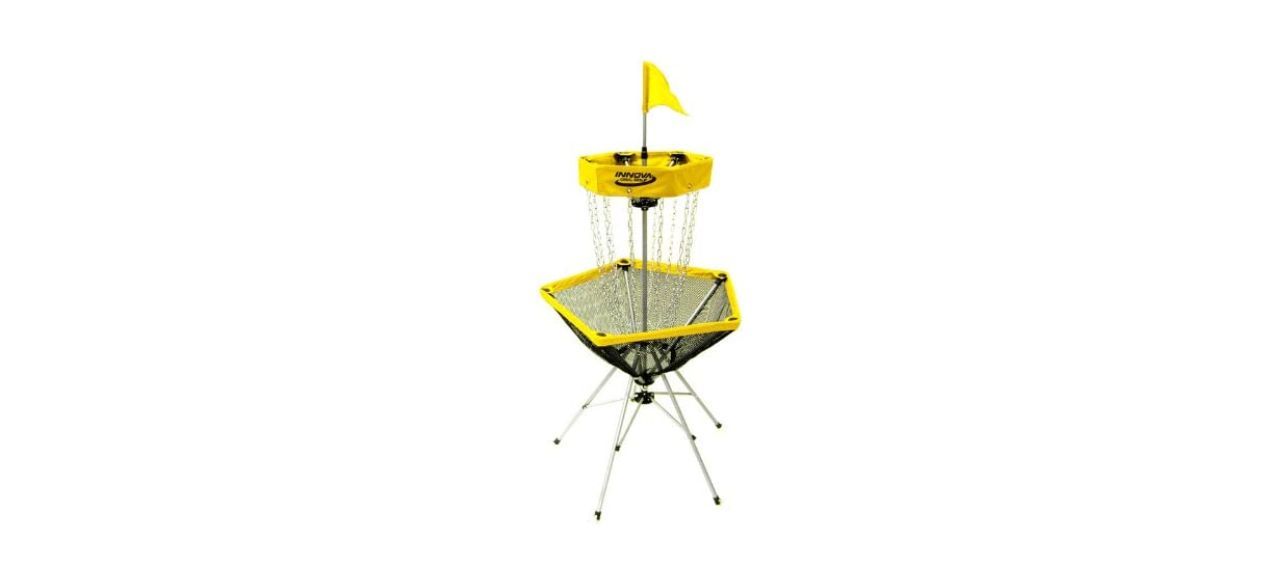 Innova Discatcher Traveler Target
This disc golf basket offers excellent stability thanks to its five legs, 12 steel chains and anchor rings that help secure it to uneven surfaces. It weighs just 15 pounds, making it one of the most portable baskets, and it has a wide, weather-resistant mesh tray.
Sold by Amazon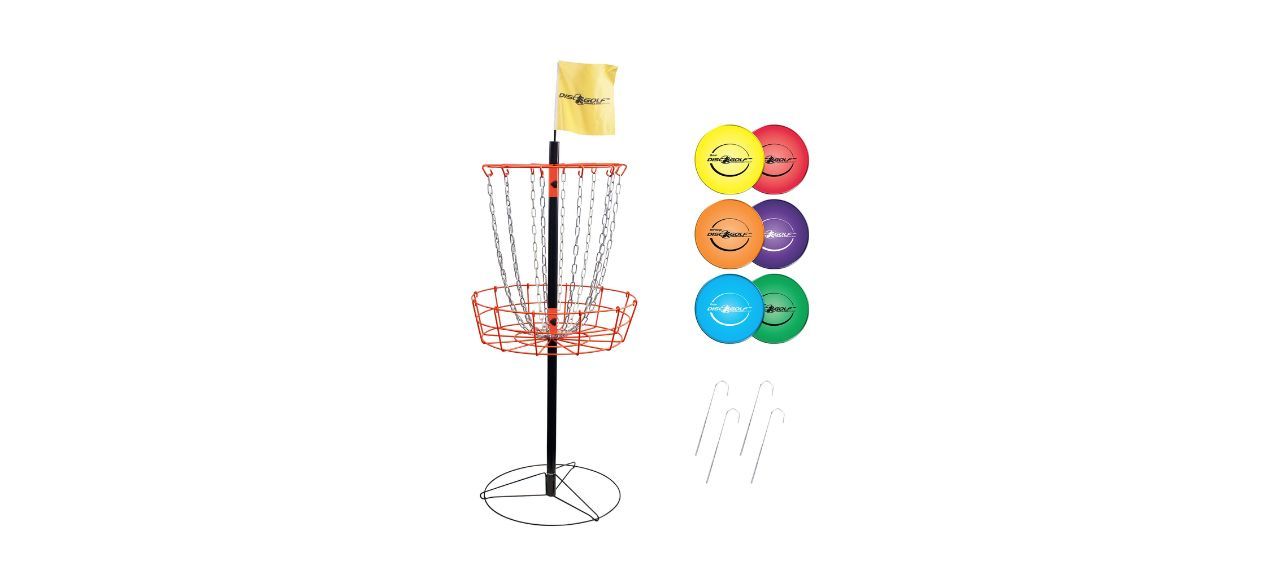 Park & Sun Sports Portable Disc Golf Basket and Disc Set
This golf disc basket has a sturdy canopy wire chain, a welded base with a large support ring and ground anchors for a locked-in setup. It comes with two disc drives, two mid-range discs and two putter discs.
Sold by Dick's Sporting Goods
Want to shop the best products at the best prices? Check out Daily Deals from BestReviews.
Sign up here to receive the BestReviews weekly newsletter for useful advice on new products and noteworthy deals.
Kevin Luna writes for BestReviews. BestReviews has helped millions of consumers simplify their purchasing decisions, saving them time and money.
BestReviews spends thousands of hours researching, analyzing, and testing products to recommend the best picks for most consumers.
Copyright 2023 BestReviews, a Nexstar company. All rights reserved.