BestReviews is reader-supported and may earn an affiliate commission. Details.
The best thermometers to keep you safe during the heat
Sharply rising temperatures, record daily highs and numerous consecutive days at 100 degrees and above have made this summer's heat feel unprecedented. The World Meteorological Organization and the European Union's Copernicus Climate Change Service noted that the first three weeks of July 2023 were the hottest on record and that the month itself is also on track to be the hottest on record.
Not only is extreme heat miserable, but it can also be dangerous. Thermometers that accurately record outdoor or surface temperatures will help you be prepared when the weather heats up.
What's behind the heat?
Records continue to be broken this summer as the earth experiences some of the hottest temperatures in over 120,000 years. Climate change, El Nino and heat domes have led to extreme heat throughout the United States and around the globe.
Climate change: Burning fossil fuels over generations has caused a shift in climate patterns due to warming temperatures. Annual average global temperatures have been rising throughout the 20th century, which is a pattern that is expected to continue.
El Nino: This year's summer temperatures are also affected by this natural climate pattern resulting from the usual warming of eastern equatorial Pacific Ocean waters. El Nino occurs every two to seven years.
Heat domes: Many areas of the United States have been subject to heat domes — extended periods of high pressure that trap heat in the regions. Parts of Florida, Texas and Arizona have had heat domes this summer, leading to record numbers of consecutive days with higher temperatures than usual.
Benefits of outdoor and surface thermometers
According to the National Oceanic and Atmospheric Administration, the earth's average temperature has risen 2 degrees since the beginning of the industrial revolution. Although this may seem like a small change, it has caused a cumulative effect that has resulted in temperatures that can harm the human body. Keeping track of potentially dangerous heat with an outdoor or surface thermometer will help you be prepared.
Accurate temperature readings will guide you in dressing appropriately for activities on hot days, including choosing shoes for walking on sizzling surfaces.
Knowing the outdoor temperature will alert you to possible weather occurrences, such as approaching storms.
Having easy access to the temperature outside and on surfaces will remind you to hydrate.
You can skip the weather forecast by checking your thermometer's readings.
An outdoor thermometer makes it possible to log daily temperatures to keep track of trends in your area.
Best outdoor thermometers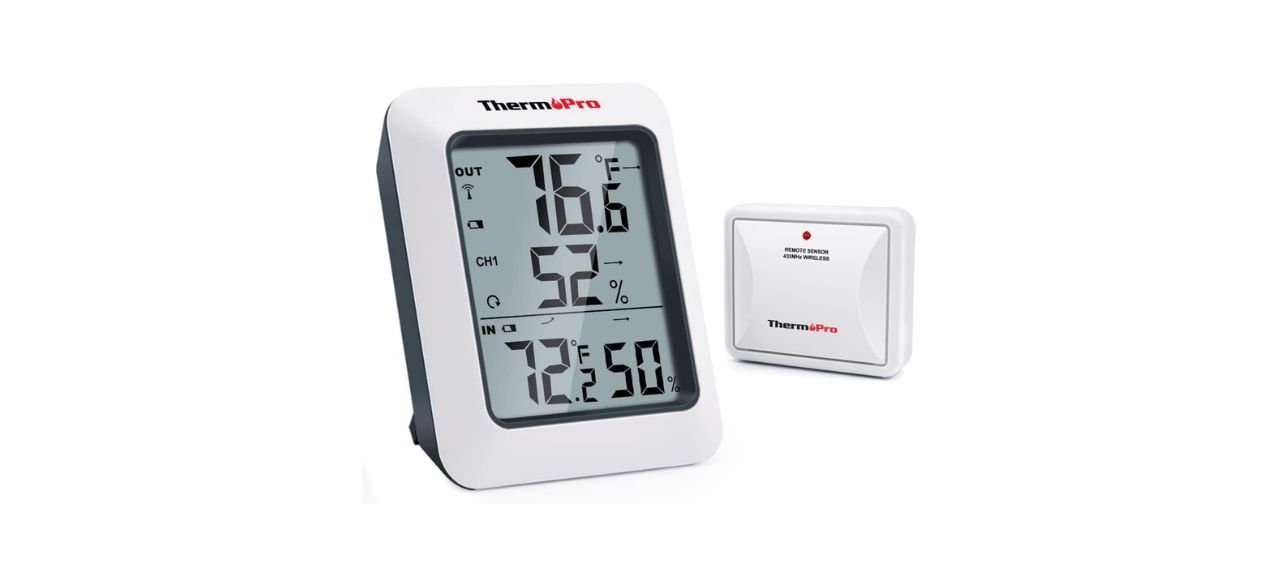 ThermoPro Digital Hygrometer Indoor/Outdoor Thermometer
Although affordable, this versatile thermometer offers features that make it a user-friendly choice. It's easy to use and can take temperatures indoors or outdoors. It can also measure humidity and boasts a large, vivid display.
Sold by Amazon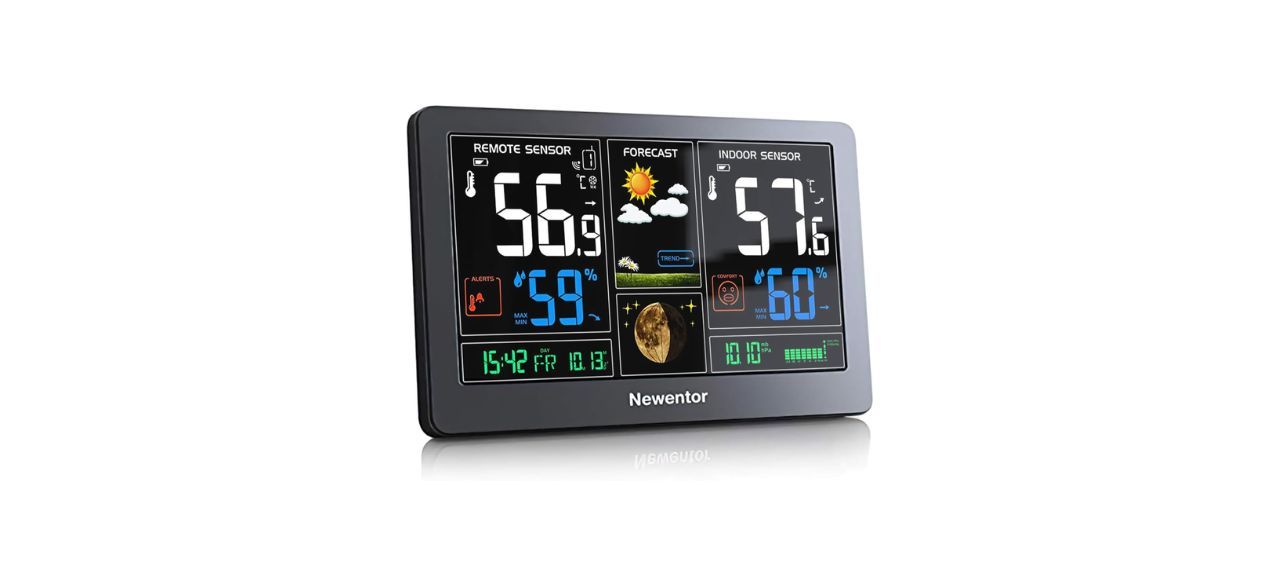 Thanks to the large color screen, you can easily access temperatures with this thermometer. More than just a device for taking temperatures, it's a complete weather station that also tracks the moon's phases, barometric pressure, day and time. It also can be used indoors or outdoors.
Sold by Amazon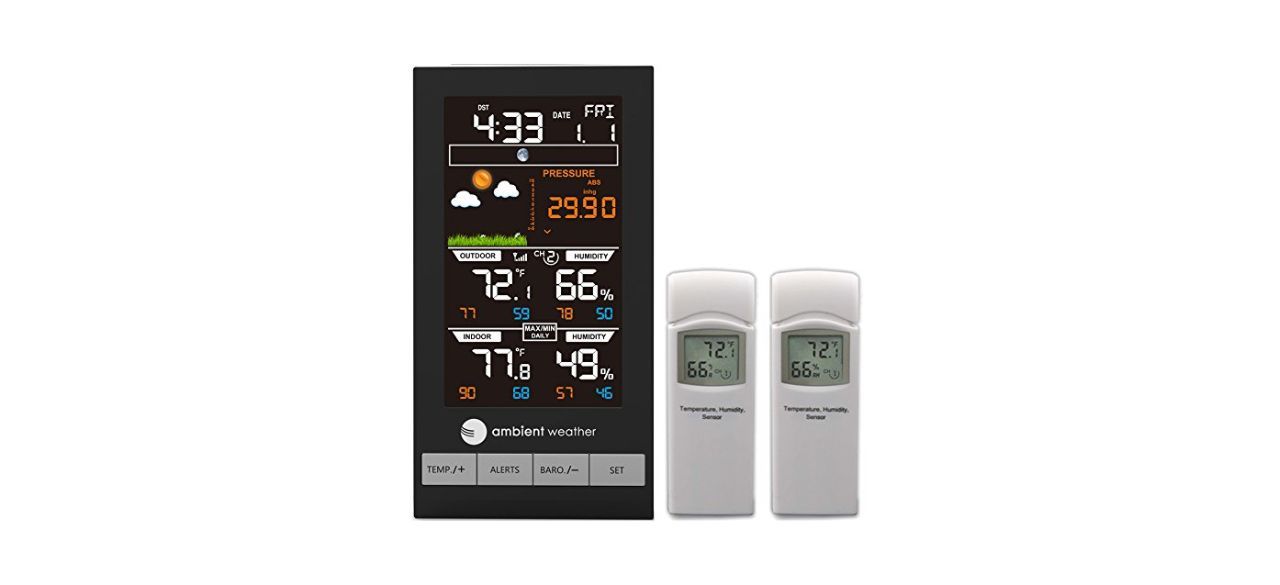 Ambient Weather Color Forecast Station
This console has two remotes so that you can access its readings from a distance. It has a full-color display that's easy to read. In addition to taking temperatures indoors and outdoors and measuring humidity and barometric pressure, it can predict weather up to 48 hours before it occurs. It's also highly accurate.
Sold by Amazon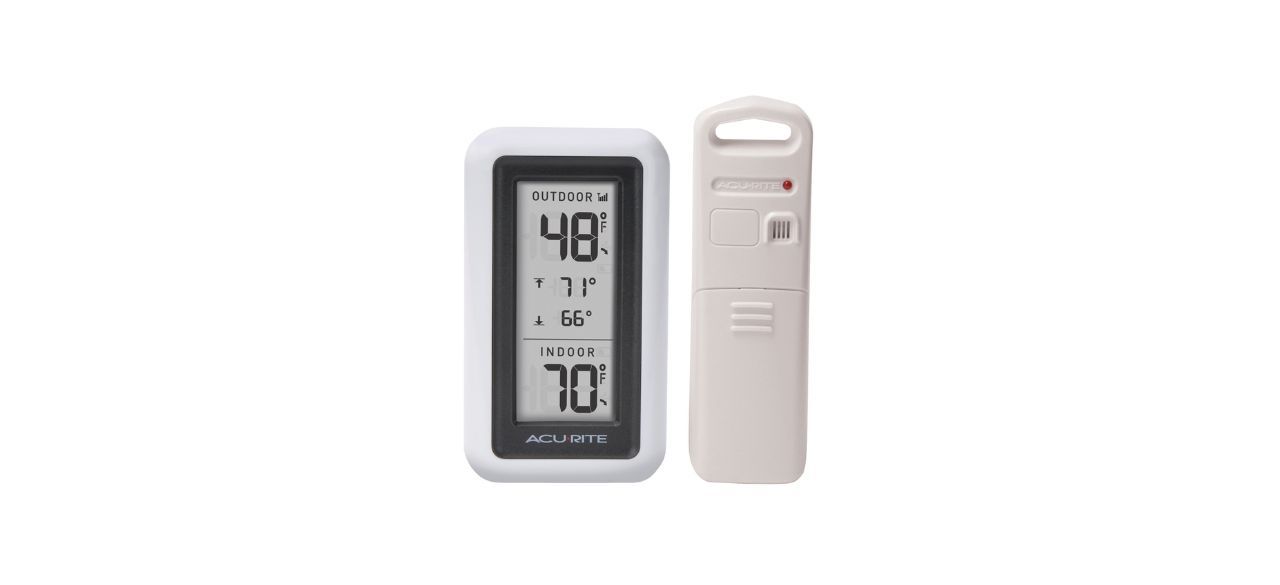 This thermometer may be simple, but it does the job with a basic design and reasonably accurate temperature readings. It features a trend function that indicates if the temperature is rising or falling. It can be used to measure temperatures indoors and outdoors.
Sold by Amazon
Best surface thermometers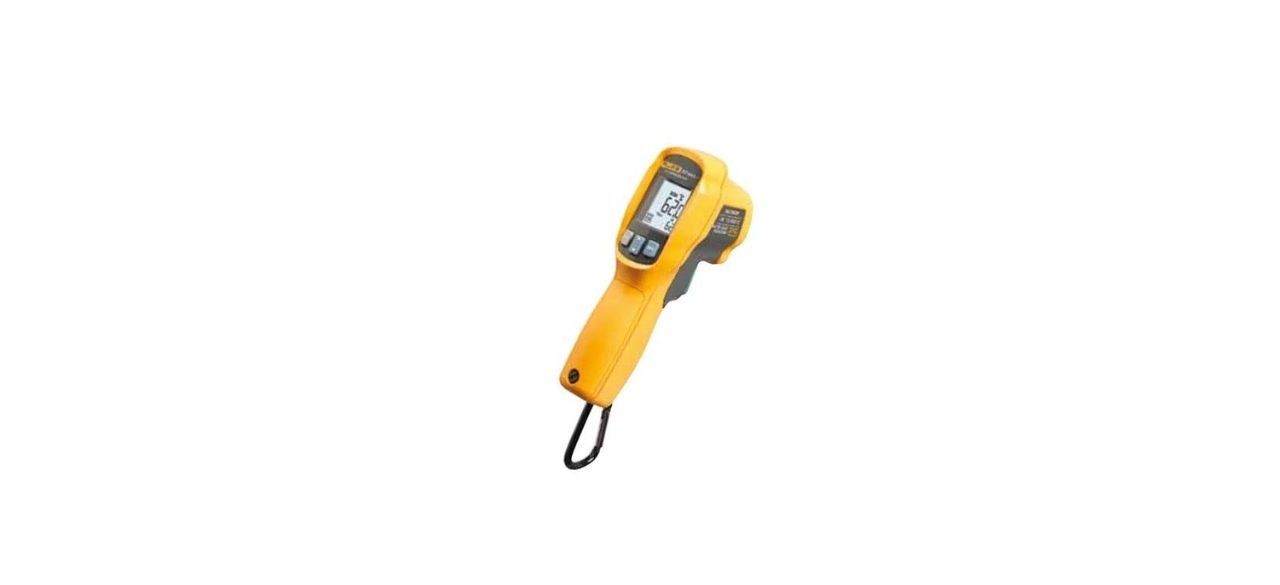 Fluke 62 Max Plus Infrared Thermometer
Manufactured with state-of-the-art technology for outstanding accuracy and fast results, this infrared surface thermometer is an excellent investment as trends point to rising temperatures. Dual lasers provide precise readings of a specific area. It's also lightweight so that you can carry it with ease.
Sold by Amazon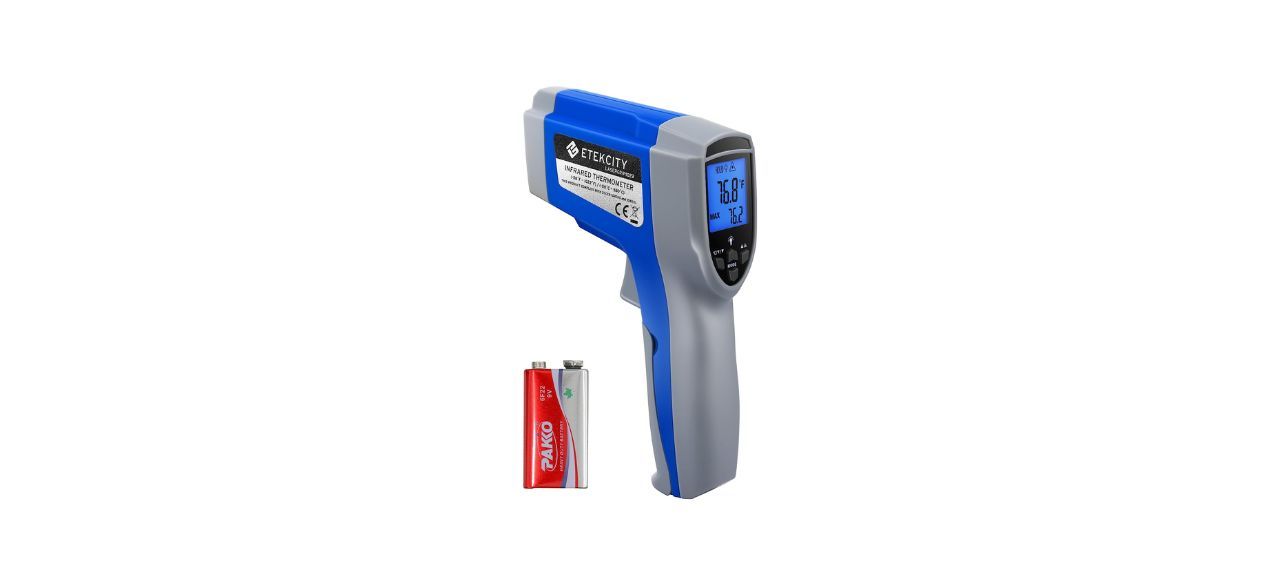 Etekcity 1022 Infrared Thermometer
Don't let the low price stop you from considering this top-selling model. That's because it's an easy-to-use surface model with valuable features, such as a backlit display and simple functions.
Sold by Amazon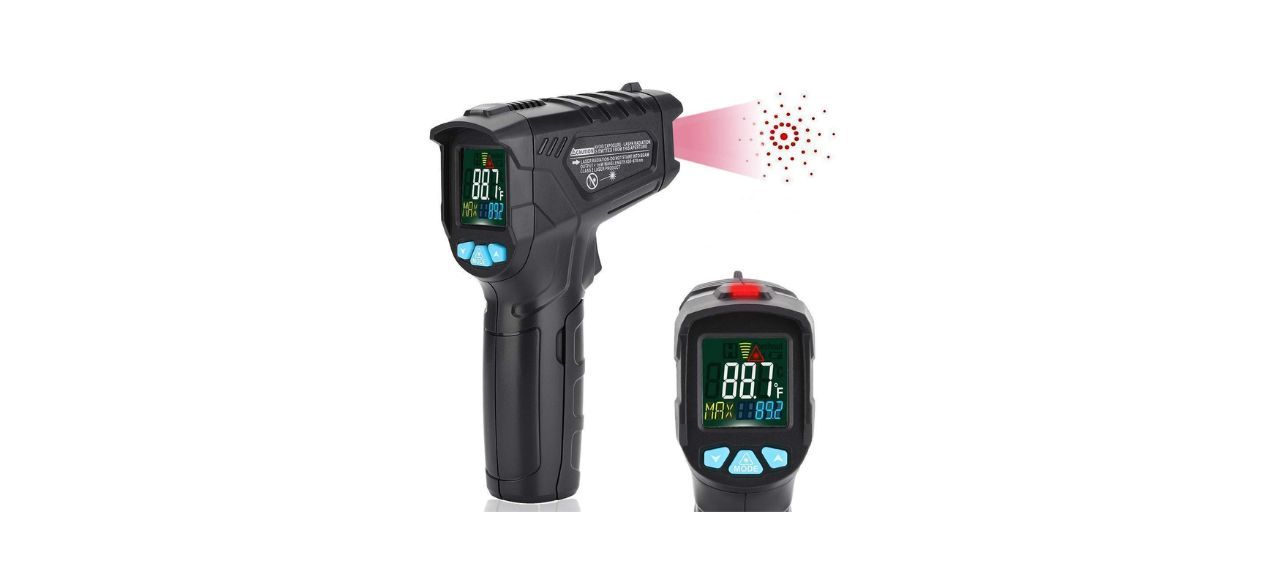 This model earns praise for the impressive temperature range that takes readings as high as 1,022 degrees Fahrenheit. It has a vivid screen and a lightweight build. It's also affordable.
Sold by Amazon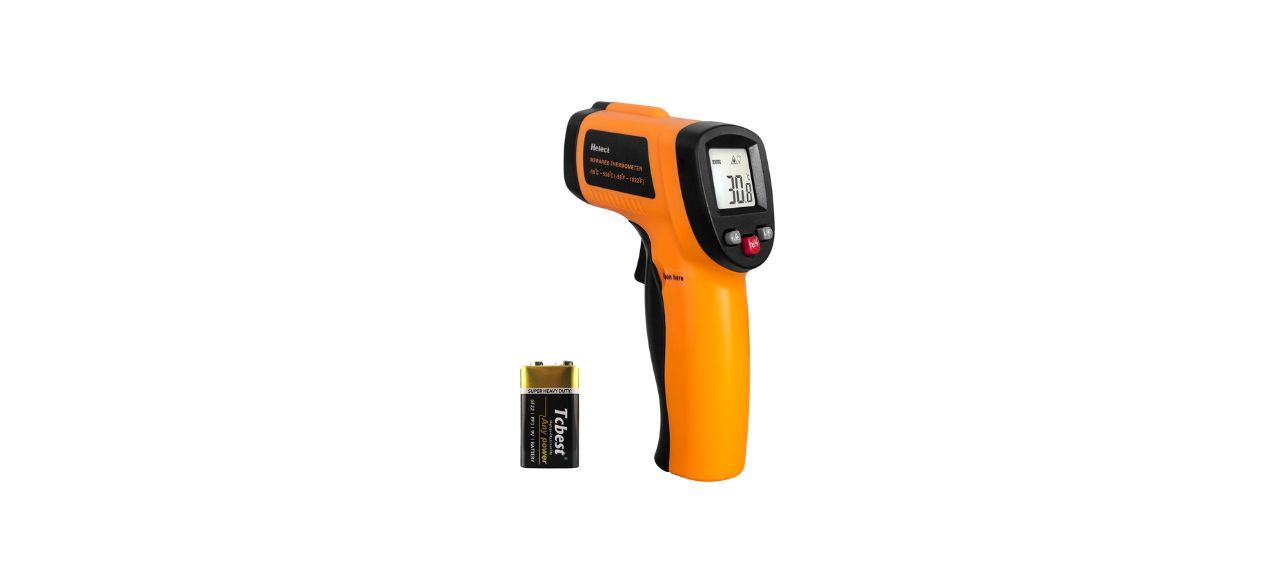 Do you want to take surface temperatures without spending a lot of money? This infrared thermometer is budget-priced yet accurate. It also takes readings up to 1,022 degrees Fahrenheit and is simple to operate.
Sold by Amazon
Want to shop the best products at the best prices? Check out Daily Deals from BestReviews.
Sign up here to receive the BestReviews weekly newsletter for useful advice on new products and noteworthy deals.
Jennifer Manfrin writes for BestReviews. BestReviews has helped millions of consumers simplify their purchasing decisions, saving them time and money.