(NerdWallet) – Flight delays can be unpredictable, but it's also possible for a delayed flight to suddenly become available. The flight could get back on schedule — and if you're not there, it may leave without you.
That's why you shouldn't usually stray too far from your gate.
Now this doesn't mean you can't retreat to an airport lounge or grab a drink at the airport bar, particularly if you're faced with a multihour wait. But if you do leave the boarding area, pay close attention so you're not left behind should your flight get back on schedule.
Here's what to do when your flight is delayed, and how you can still escape a potentially crowded boarding area without missing your flight when it finally happens.
Why flight delays happen — and how they can get un-delayed
In the first four months of 2023, only 76.58% of U.S. flights arrived on time, according to Bureau of Transportation Statistics data. The most common cause of delays in that period was the inbound aircraft arriving late, affecting 7.6% of all flights. In short, an issue with an earlier flight can lead to a snowball of flight delays.
The second-most common reason was air carrier issues (which impacted 7.1% of flights in that period). That includes maintenance or crew problems, aircraft cleaning, baggage loading and fueling.
That said, airlines want to depart as close to the originally scheduled departure time as possible. Even though U.S. airlines aren't required to compensate passengers for delays like they do in the European Union, airlines still lose money. According to the Federal Aviation Administration's Office of Aviation Policy and Plans, delays cost airlines a combined $8.3 billion in increased expenses in 2019 to cover costs like overtime crew wages.
Given that, airlines are incentivized to get back on schedule. An aircraft experiencing technical issues might initially trigger an alert that the flight has been delayed. But if the airline has another aircraft on standby, then the flight could get back on schedule as originally intended.
When airlines seize such an opportunity, it's generally a win-win, as the airline gets back on schedule and passengers arrive on time. However, it can end up disrupting passengers who didn't realize their flight got back on schedule, particularly if they aren't even at the airport because they intended to wait it out at home or at their hotel.
But there are ways to find out the status of your flight and stay alerted should that delay get un-delayed.
How to find out why a flight is delayed
Your first task is to find out why the flight is delayed. Something like a shortage of available gates might be solved fairly quickly if the airport can reshuffle idle aircraft and make space for boarding.
Meanwhile, a delay due to a massive storm likely means no flights can take off.

Use the FAA's flight delay website, which displays airport-wide delays impacting major U.S. airports in real time, to better estimate how long you'll have to wait. Sometimes the FAA's website provides its own estimates of delay durations, though note that those are exactly that — just estimates.
If you're at the airport already, you might also just ask the gate agent.
Keep tabs on your delayed flight with the right tools
U.S. airlines are legally required to provide passengers with flight status changes within 30 minutes of being made aware of the status change. While the DOT requires that information be posted on the airline's website and through the airline's telephone reservation system, most airlines make it even easier by sending you flight alerts by email, smartphone app or text message.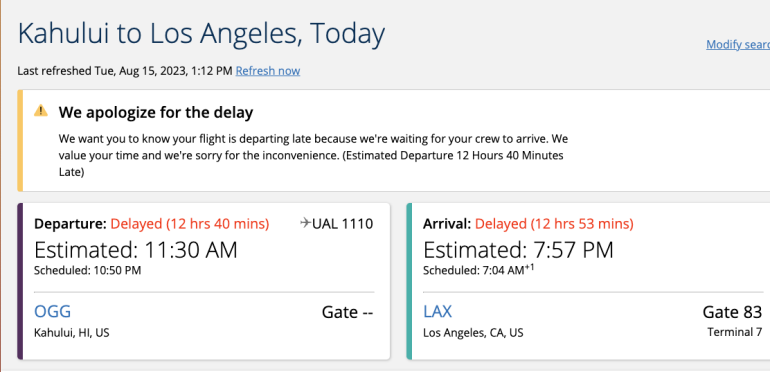 When booking your flight, provide contact information and opt in to alerts if you want the airline to message you with updates (you can also typically add your contact information after booking). Download the airline's app, connect it to your reservation and subscribe to push notifications if you want real-time updates about your flight status.
Third–party tools can also help you keep tabs on your flight — sometimes even better than the airline itself. For example, FlightAware amalgamates real-time flight tracking, airport information and weather data into a user-friendly interface that lets you track your flight status. It offers notifications and visualizations of the flight's progress on a live map. A FlightAware tool called "Where is my plane now?" shows the location of the aircraft, which can give you an idea of the delay's length, assuming the issue has to do with the inbound aircraft arriving late.