This is an archived article and the information in the article may be outdated. Please look at the time stamp on the story to see when it was last updated.
6/25/2020 7:45 am – Thursday – Heavy storms are still moving across the area so tune in to Cw39.com for the latest and weather and traffic as you make your commute this morning. Here are the two latest warnings issued at this hour.
6/24/2020 7:30 am, Wednesday– Storms waited to arrive, but they made it here, and with some intense rain! As of 7:30 am, there is no longer a Flash Flood Watch in effect, but some Aerial Flood Advisories are in effect for coastal communities. That's where the heaviest rain will continue to fall this morning. The activity should push away by 10 am. Some additional re-development is possible this afternoon, but it won't be as intense. Stay safe on the roads this morning!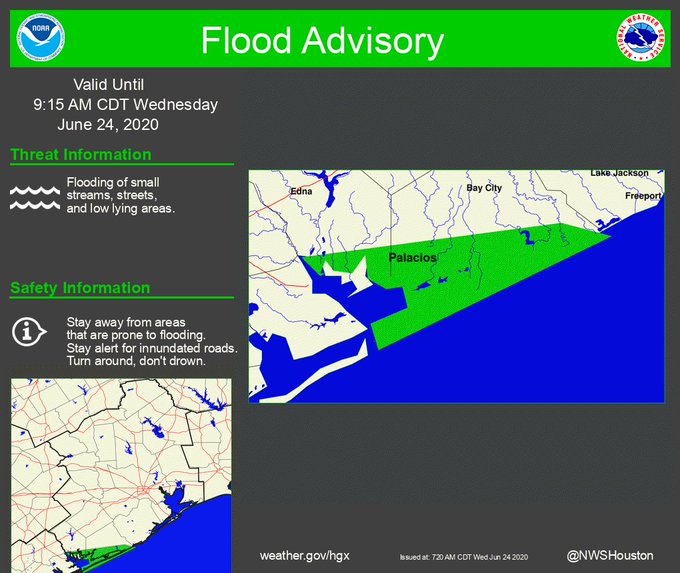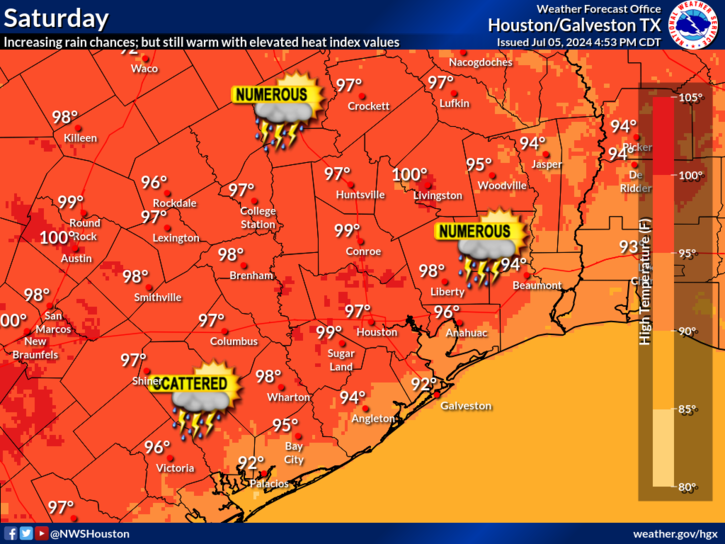 6/23/2020 5pm Tuesday- FLASH FLOOD WATCH will be in effect from 7pm Tuesday through 7am Wednesday. Be prepared for heavy rain!
A line of strong storms is expected to move our way slowly, and possibly training over areas that have already seen heavy rain on Monday. This will lead to an increased threat for flash flooding. Look for rainfall rates to reach one to three inches per hour or more at times.
The timing and location of the line of storms remains a bit uncertain. Still, it's very possible to receive 1-4 inches through tomorrow morning, with isolated areas of 6 to 8 inches not out of the question.
Streets, roadways and low lying areas may see flooding. Small creeks and bayous may see minor rises. To check rainfall totals or the levels of watersheds in your area here: https://www.harriscountyfws.org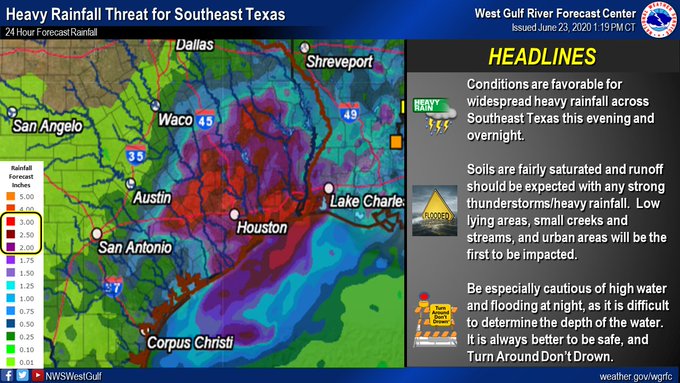 6/23/2020 7am Tuesday- More rain is on the way. The Weather Prediction Center has placed us under the slight risk for excessive rainfall later today and tonight. Rainfall totals through Wednesday will average between 1-3 inches, with isolated amounts up to 5 inches. Street flooding is likely. Remember never to drive through flooded streets. Stay safe everyone!
6/22/2020 12:45pm— Still seeing torrential downpours pushing south and southeast. Here is a summary of what to expect:
-Street flooding continues to be the main threat. Isolated totals have reached 3 to 4 inches, but most of us have seen less than 2 inches.
-There is an Urban and Small Stream Advisory in effect until 1:15pm.
-There are several high water spots around town. For example: HARDY AIRPORT CONNECTOR Eastbound Before JFK BLVD . Turn around if you see flooded roads!
-Storms will last for another hour or so until they move off shore. But expect continuing rain chances this week.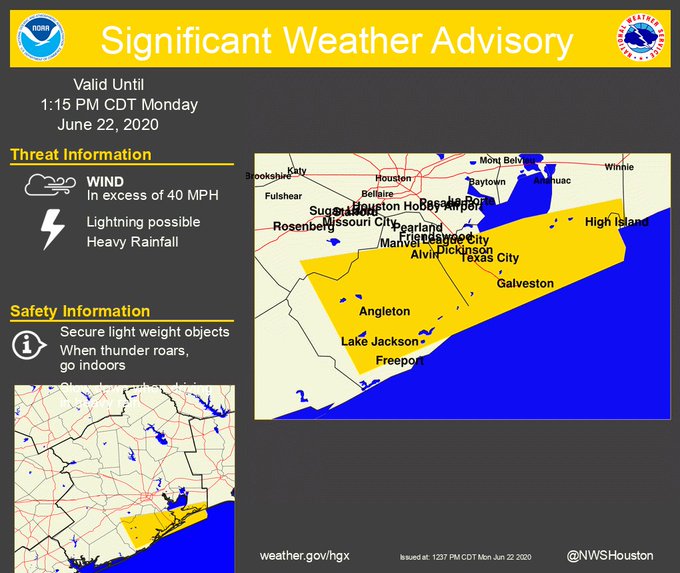 6/22/2020 11:30am — Heavy rain moving through! Torrential downpours at times, 40 mph winds and lighting are the greatest threats! Never drive through flooded areas. This line of storms will continue to slowly push south/southeast.
Traffic anchor Hannah Trippett and I have this 11:30am LIVE severe weather update for you. As weather moves through our area this week, we will continue to provide these updates for you about traffic and weather. So share it with loved ones you have in affected areas that could see
Here are the latest rain gauges, showing the last thirty minutes of rainfall accumulation. Between a quarter of an inch to as much as 1.25″. Street flooding is possible.
Between today and Wednesday, we'll likely see 1-2 inches in general, with higher isolated amounts. This pattern stays in place until the weekend, when Saharan dust will inhibit rain and make our sunsets bright and bold.
What's weather like in your area? Email me your weather photos at msotolongo@cw39.com
Have a great day!